We're taking the drone approach to covering Photokina 2014. No boots on the ground but aerial surveillance of the more important targets. We'll provide a brief description with links to official press releases and sponsored links for pre-ordering. This entry covers the Canon 7D Mark II, three PowerShots and three lenses; the Olympus 40-150mm f2.8 Pro lens; the Panasonic LX100 and GM5; and the Samsung NX1.
CANON
The $1,800 7D Mark II with a magnesium alloy body to host a newly-developed 20.2-Mp APS-C CMOS sensor and Dual DIGIC 6 Image Processors, protected by enhanced dust and weather resistance to protect the camera.
It shoots up to 10 frames per second at ISOs ranging from 100-16,000 and expandable to 51,200. Focus is handled by the 65-point all cross-type AF system and Canon's Dual Pixel CMOS AF. It has dual card slots for both CF and SD cards, USB 3.0 connectivity and built-in GPS.

Three new PowerShot models:
The $699.99 G7 X features a one-inch 20.2-Mp High-Sensitivity CMOS sensor with an ISO range of 125 to 12,800. A DIGIC 6 image processor is matched to the 4.2x optical zoom lens (equivalent to 24-100mm) with a nine-blade curved aperture diaphragm and a maximum aperture range of f1.8 to f2.8.
The $549.99 SX60 HS features 65x optical zoom (equivalent to 21-1365mm) with Optical Image Stabilization, a 16.1-Mp CMOS image sensor, DIGIC 6 image processor, 1080/60p Full HD video capabilities, a built-in stereo microphone (and a port for optional external stereo microphone) and WiFi to connect to mobile devices.
The squarish $299.99 N2 features an 8x optical zoom lens (equivalent to 28-224mm), a 16.1-Mp CMOS image sensor, DIGIC 6 Image processor and both NFC and WiFi. Using the Mobile Device Connect Button, you can connect to a compatible smartphone or tablet to share images.

Sponsored Links: the G7 at Adorama, B&H, theSX60 at Adorama, B&H and the N2 at Adorama, B&H

Three new lenses: 400mm, 24-105mm, 24mm:

Sponsored Links: The 400mm at Adorama, B&H, the 24-105mm at Adorama, B&H and the 24mm at Adorama, B&H
OLYMPUS
The $1,499 M.Zuiko ED 40-150mm f2.8 Pro Lens is the first M.Zuiko Pro Telephoto Zoom lens with "the world's first focusing system to power two high-grade lens elements using the dual linear Voice Coil Motor packed inside the compact dust, splash and freezeproof construction.
Sponsored Links: Adorama
Note: Derrick Story has a short piece about it.
PANASONIC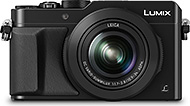 The $899 LX100 compact camera with a Four Thirds sensor features a 24-75mm Leica DC lens (f1.7-2.8), aneye-level EVF with 2,764k dots and a hybrid 30p 4K Ultra HD video and 4K photo mode. It also includes an external flash.

The $899 GM5 m4/3 mirrorless features a 16-Mp Digital Live MOS sensor and Venus Engine image processor, Full HD 1080p video at 60/50 fps, a high-resolution electronic viewfinder and an integrated hotshoe.
SAMSUNG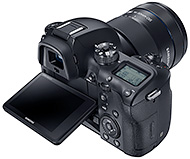 The $1,500 weather-sealed NX1 mirrorless with a 28.2-Mp APS-C BSI-CMOS sensor and hybrid autofocus system.
Sponsored Links: Adorama
Notes: Thom Hogan covers the NX1 announcement and Kirk Tuck has a short take on it, too.