We're taking the drone approach to covering Photokina 2016. No boots on the ground but aerial surveillance of the more important targets. We'll provide a brief description with links to official press releases and sponsored links for pre-ordering. This entry covers the Sony Alpha 99 Mark II and a Sony-Profoto collaboration.
SONY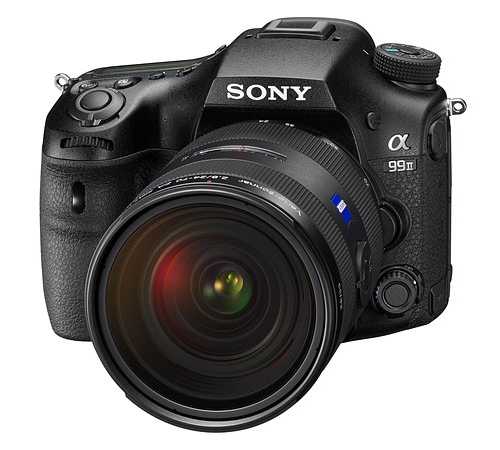 Sony Announces New Full-Frame a99 II A-mount Camera
Flagship A-mount camera Features Ultra-Fast 4D FOCUS with 79 hybrid cross AF points1 plus 12 fps continuous shooting2, High Resolution 42.4 MP Exmor R CMOS sensor, 5-axis in-body image stabilization and more
COLOGNE, Germany -- Sony Electronics has introduced their new flagship A-mount camera, the a99 II.
Reaffirming Sony's commitment to produce industry leading A-mount cameras, the new camera combines the best of many of its latest digital imaging innovations including a new Hybrid Phase Detection AF system with exclusive Sony A-mount features such as Translucent Mirror Technology.
"We are continuing to innovate with each new camera body, lens and accessory that we bring to market, offering compelling choices to both existing and prospective users of the Sony Alpha system" said Neal Manowitz, vice president of Digital Imaging at Sony Electronics. "With the, we're delivering an industry-leading level of performance to A-mount owners and enthusiasts. Its powerful combination of speed and resolution is simply unmatched in today's market."
Redefining Autofocus and Speed
The new a99 II camera is Sony's first full-frame camera to feature its 4D Focus system. The Hybrid Phase Detection AF system combines a 79-point dedicated phase detection AF sensor with 399 focal plane phase detection AF points to produce a 79 hybrid cross AF point array. This enables more precise autofocus performance and advanced subject tracking of high-speed moving objects across the frame.
In addition Translucent Mirror Technology, with no moving mirror, ensures steady, continuous AF operation and live image preview during both still image and video shooting. The AF system also performs exceptionally in low-light conditions, functioning properly in brightness levels as low as EV -45.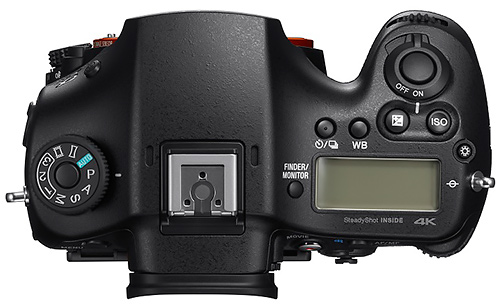 In addition to its advanced autofocusing, the a99 II has been designed for high resolution, continuous shooting at high frame rates. The camera features a new front-end LSI that works with the image sensor, BIONZ X image processing engine and a newly designed shutter unit to enable continuous shooting at speeds of up to 12 fps with AF/AE tracking6. Thanks to a large buffer, these shots can be viewed immediately after shooting, even when in high-speed continuous shooting mode. Additionally, if these high-speed shots are being taken indoors under artificial lighting, the camera can automatically detect flicker and time the shutter accordingly to minimize its effect on the resulting images.
The new a99 II also has the ability to deliver continuous live shooting at up to 8 fps with AF/AE tracking and minimal display lag thanks to improvements in the EVF algorithm. This offers photographers a shooting experience that closely mimics that of an optical viewfinder, while still offering all of the benefits of an electronic viewfinder including a live preview of exposure, white balance and several other camera settings. This continuous live view shooting can be set in three stages to match a variety of subjects: 8 fps, 6 fps and 4 fps.
Pixel Power
The back-illuminated full-frame 42.4-Mp Exmor R CMOS sensor features a gapless-on-chip design for fast readout of large volumes of data and maximizes light gathering ability. The net result is very high sensitivity with low noise, wide dynamic range and 42.4-Mp resolution across an ISO range of 100 to 25,600, expandable to ISO 50 to 102,400.
The new camera has also been designed without an optical low-pass filter. Both compressed and uncompressed Raw files are supported.
5-axis SteadyShot INSIDE Image Stabilization
Sony has designed a new in-body five-axis image stabilization system for A-mount cameras that debuts in the a99 II model. The five-axis system effectively detects and compensates for movement in all axes including X and Y, pitch and yaw and camera roll. The new stabilization system provides a shutter speed advantage of 4.5 steps. Also, with a simple half press of the shutter button, the effect of this the image stabilization can be monitored in the viewfinder or on the LCD screen, allowing framing and focus to be accurately checked and continually monitored.
Improved design and operability
Based upon feedback from professional users, the design of a99 II has noticeably evolved compared to its predecessor. The new model is eight percent smaller than the original a99 and features a newly designed grip, magnesium alloy body, dual SD card slots12 and dust and moisture resistance13.
The a99 II also features a new shutter unit that has an estimated life of more than 300,000 operations, as well as an XGA OLED Tru-finder with a Zeiss T* Coating that offers a powerful 0.78x magnification and delivers outstanding clarify from corner to corner. The viewfinder also has a fluorine coating on the outer lens to prevent fingerprints, dust, water, oil and dirt from sticking, ensuring a clear view.
The silent Multi Controller introduced in the original a99 has been improved as well, as it now offers a click-stop On/Off switch in addition to allowing control of aperture, shutter speed, ISO, exposure compensation, AF area, AF mode and other settings. The a99 II also offers location data acquisition via a Bluetooth15 connection to a compatible mobile device and an updated menu structure to deliver a smoother navigational experience.
Movie Magic
For the first time in a Sony A-mount camera, the a99 II has the ability to record 4K video internally with full pixel readout and no pixel binning through usage of the professional-friendly XAVC S format. The camera is capable of recording high quality footage at 100 Mbps for 4K recording and utilizing the full width of the large, full-frame image sensor in doing so. It also offers a new Slow and Quick mode (S&Q) that supports both slow motion and quick motion. In this mode, frame rates from 1 to 120 fps can be selected in eight steps for up to 60x quick motion and 5x slow motion recording.
Other features for professional movie production workflow include picture profiles, time code and clean HDMI output as well as gamma assist for real time S-Log monitoring and a zebra mode for easier exposure adjustment. S-Log3 and S-Log2 gamma are both included as well.
Pricing and Availability
The Sony a99 II full-frame interchangeable lens camera will ship this November to authorized Sony retailers throughout North America for about $3,200 and $4,000.

Sony and Profoto Announce Collaboration
Collaboration Includes Release of new Profoto Air Remote TTL-S as first Interoperable Product
COLOGNE, Germany -- Sony Electronics, a worldwide leader in digital imaging and the world's largest image sensor manufacturer, has announced a collaboration with professional lighting company Profoto to provide optimized compatibility between Profoto flashes and other light shaping tools with Sony interchangeable lens cameras.
Sony has licensed the technical specifications for four of its ILC models to Profoto, enabling them to develop product which provides a rich light shaping experience for Sony Alpha camera users.
"The passion for enabling great photography is one that we share with Profoto and we are excited that Sony Alpha users will be able to broaden their shooting possibilities," said Neal Manowitz, vice president of Digital Imaging for Sony Electronics.
The first product in the Profoto line-up to benefit from the collaboration is the Profoto Air Remote TTL-S that wirelessly integrates a Profoto AirTTL flash with select Sony Alpha cameras. Air Remote TTL-S is a small, wireless radio transmitter that attaches to the Sony camera's hotshoe. The remote allows TTL metering with any Profoto AirTTL flash. In TTL Mode, the user just points and shoots and the Air Remote TTL-S will communicate with the flash to automatically give a perfect exposure. The Air Remote TTL-S also comes with patent-pending Profoto High-speed Sync technology -- faster, more powerful and more consistent than any other HSS solution on the market.
The Air Remote TTL-S system will be available globally in early 2017 for $411/$590.
PREVIOUSLY
Our earlier Photokina coverage includes: