We're taking the drone approach to covering Photokina 2016. No boots on the ground but aerial surveillance of the more important targets. We'll provide a brief description with links to official press releases and sponsored links for pre-ordering. This entry covers Polaroid Snap Touch, MeFoto Air tripods and Western Digital/SanDisk 1-TB SDXC cards.
POLAROID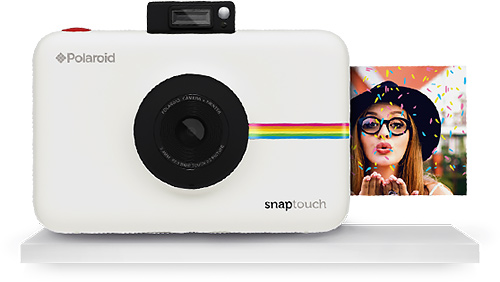 Polaroid Announces Polaroid Snap Touch
Polaroid has announced its Polaroid Snap Touch instant digital camera is now available for pre-order.
With the Snap Touch, Polaroid is able to offer the traditional instant photography experience with new features aimed at today's digital photographer. The Snap Touch follows the highly successful first generation Polaroid Snap with the addition of a 3.5-inch LCD touchscreen, a new and improved 13-megapixel CMOS sensor and 1080p full HD video recording capability. All images and video are stored on a micro SD card (up to 128-GB) to allow for sharing later.
Integrated within the Snap Touch is a printer which uses ZINK Zero Ink Printing Technology to instantly print full-color, 2x3-inch photographs, at a significantly lower cost than traditional instant film prints.
Selfie shooters will appreciate teh self-timer and a fun selfie mirror to aid framing the shot. The instant digital camera also offers three color modes-black and white, color and vintage sepia-with the option to print with or without the Polaroid Classic Border Logo.
And with Bluetooth and the free Android and iOS Polaroid Print App, you can pair the Snap Touch with smartphones and tablets to transform it into an instant photoprinter. The app lets you edit and enhance images saved on other mobile devices using a number of creative filters, digital stickers, effects and controls before printing via the Snap Touch.
In addition to the $179.99 Snap Touch, Polaroid rainbow border 2x3-inch premium ZINK paper is available at http://www.polaroidsnapcamera.com for $12.99 for a 20-pack.
MEFOTO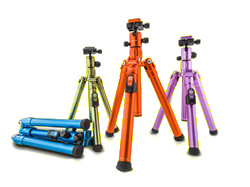 MeFoto Introduces Colorful Air Tripods
MeFoto has introduces its MeFoto Air line of colorful and compact tripods and monopods. The lightweight and ultra-portable offering provides both value and performance, the company said.
The Air features HyperLock, MeFoto's revolutionary new leg lock system, in addition to durability, functionality, speed, size and style.
"Our world is moving faster and faster every day -- our gear should too," said Brian Hynes, MeFoto brand manager. "With MeFoto Air, our design engineers zeroed in on how users interact with their tripods, paying close attention to the leg locks.
"We developed HyperLock, a completely new leg locking system which not only simplifies the process of locking down each leg section, but also makes it significantly faster and lighter. The result is a tripod that's quicker to setup, easier to carry and that takes up less space in a pack, all without sacrificing performance. MeFoto Air truly raises the bar by which all travel tripods will be measured against."
With HyperLock, you interact with only one locking mechanism per leg. One small turn unlocks and extends the entire leg and with a simple reverse twist, the legs lock back into place.
The MeFoto Air tripod converts into a telescoping selfie stick and includes a spring-loaded phone adapter. A rechargeable Bluetooth remote that attaches to the handle also comes standard.
WESTERN DIGITAL/SANDISK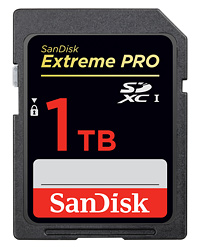 Western Digital Demonstrates Prototype 1-TD SDXC Card
Western Digital has unveiled its SanDisk 1-TB terabyte SDXC card prototype to address increasing demand for high resolution content, such as 4K and 8K video.
"Showcasing the most advanced imaging technologies is truly exciting for us," said Dinesh Bahal, vice president, product management, Content Solutions Business Unit, Western Digital. "Sixteen years ago we introduced the first SanDisk 64-MB SD card and today we are enabling capacities of 1TB.
"Over the years our goal has remained the same; continue to innovate and set the pace for the imaging industry. The SanDisk 1-TB SD card prototype represents another significant achievement as growth of high-resolution content and capacity-intensive applications such as virtual reality, video surveillance and 360 video, are progressing at astounding rates."
No price or availability date were revealed.
PREVIOUSLY
Our earlier Photokina coverage includes: