We're taking the drone approach to covering Photokina 2016. No boots on the ground but aerial surveillance of the more important targets. We'll provide a brief description with links to official press releases and sponsored links for pre-ordering. This entry covers Foolography's dSLR controller, Lumulabs's Lumu Power meter and a Kevin Raber report.
FOOLOGRAPHY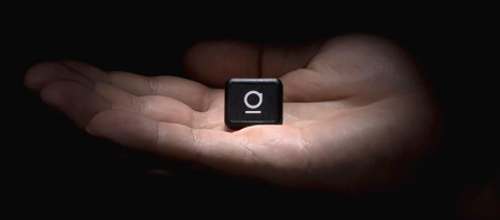 Foolography Successfully Introduces Unleashed, the Almost Invisible Smartphone dSLR Remote Control
The Unleashed successfully reached its Kickstarter funding goal in five days. Foolography's attractively designed, tiny Bluetooth Low Energy module gives you complete control over their dSLRs from your smartphone. You can change settings, take photos, videos or timelapses, get thumbnail previews and geotag your images.
The Unleashed is unobtrusive, leaves the hot-shoe free, doesn't need long cables and can stay on the camera all the times, even when packing it away. It uses minimal power from the camera, doesn't need to be charged and automatically reconnects to the photographer's smartphone, so it's always ready to be used.
"I tried using several WiFi-adapters for a while, but they would often lose the WiFi connection," said Oliver Perialis, founder and CEO of Foolography. "So I was constantly switching between my iPhone's WiFi settings and the manufacturers app, unplugging and replugging the adapter, changing networks and resetting the app. It was nothing but frustrating! I knew there had to be a better way!"
"The smartphone as a controller replacing interfaces of pretty much any technological device is a great thing," said Ken Jochmann, CMO of Foolography. "But without good UX design, the advantages are made worthless. That's why we made it one of our primary design goals to have an intuitive and attractive app design. I'm confident photographers will love using the Foolography app."
To fit snugly on the side of most Nikon and Canon DSLRs and to avoid cables, the Unleashed comes in a few models with slightly different form factors. Dimensions vary from just 18x13mm over 23x20mm to 13x45mm with a very flat profile. For some older cameras and for some of the many functions, a very short and flexible cable with small, right-angle plugs is connected between the Unleashed and a second port on the camera. But even that cable is designed to stay out of the way, rest flat on the camera's side and is as short as possible.
LUMULABS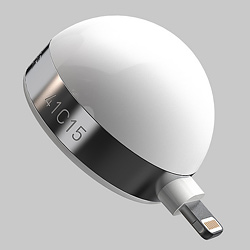 Lumulabs Demos Lumu Power Meter
Lumulabs is demonstrating its new $229 Lumu Power metering device for smartphones. The device measures color temperature, white balance, flash and ambient exposure or luminance with the help of one app.
The flat side is a diffuser with a True Color sensor to measure color temperature, white balance and luminance. The domed side has a fast silicone photodiode to measure ambient light and flash output.
With two state-of-the art sensors -- a True Color sensor, based on the color standard CIE 1931/DIN 5033, and Photodiode with CIE spectral luminous efficiency -- it's "better than human eyes," the company said.
LUMINOUS LANDSCAPE
Day One Report
Photokina 2016 Day One by Kevin Raber, accessible without a subscription, cover Tuesday, Sept. 20. Raber has been attending the show since 1980, missing only two of them, and provides a unique perspective.
But it isn't a starry-eyed perspective. In the Internet age, camera makers don't wait for trade shows to announce new models, he points out. So there are few surprises. "I asked my colleague Nick Devlin what the excitement of the show was, and between the both of us we couldn't come up with something specific," he admits.
Worse are the facilities. "Publishing this report was painful. We are at a hotel that is up to date with the poorest Internet connections on the planet. They have a download limit that cuts you off at a certain level. Trying to save a Web page can completely disconnect the editor and your work is lost. What should have taken a few hours has been a massive undertaking. The Internet at the Press Center isn't much better and is measured in KbPS not MbPS. So, bear with us as we work hard to get these reports published."
PREVIOUSLY
Our earlier Photokina coverage includes: